Home Interesting Aviation For Airports have developed a unique system of towing aircraft
A unique towing system has been developed for airports
Author: avianews.com -01/05/2021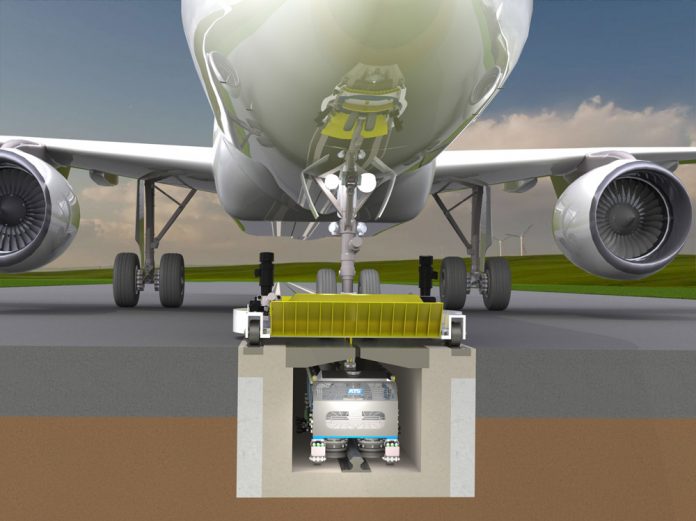 The U.S. has developed a unique system of towing aircraft at airports, which works automatically. A prototype of the solution has already been developed and installed at Ardmore Industrial Park in Oklahoma and will be unveiled in the summer of 2021.
Stan Malicki, president of the ATS World Wide LLC project, says the new technology will reduce fuel consumption, transportation time and reduce the number of collisions on the ground due to human towing errors.
The principle of work provides that a special trolley will meet the airliner after landing near the lane, join its nose chassis and transport to the parking lot. The departing aircraft trolley will be towed from the terminal to the engine launch site next to the strip.
At the time of towing, the aircraft's power plants can be turned off – this will save kerosene. The new technology does not produce additional emissions to the environment because it works on electricity.
"The idea to create the system arose during a normal conversation between the president and the founder of the company and his friend-pilot. He said that after landing in the parking lot, the plane burned more than two tons of fuel," said ATS World Wide Chief Executive Officer and Vice President Vince Howie.
To avoid collision with other vehicles, the system uses radar to monitor the nearest space.
It will require the construction of a network of tunnels 80 cm deep and 1.2 meters wide in the center of the taxiways. They will house power mechanisms on the tracks, which ensure the movement of trolleys and the towing of aircraft.
The cost of one meter of the tunnel under the taxiway is $3.1 thousand, and trolleys with towing mechanism – $78 thousand.
It will require 20 people to manage and maintain the new system at a large airport, but its launch will optimize staff. At Frankfurt Airport, for example, the number of employees can be reduced by 400.
The system is offered to be repaid with a special transportation fee. The developers claim that it will be beneficial to airlines, as the fee will be 60% of the cost of fuel, which will be saved.